Ironman IFT 4000 Inversion Table Review & Comparison [2022]
Combining inversion therapy with infrared rays in one heated inversion table?
That sounds like a great idea.
That's why we were eager to share our review for Ironman infrared therapy inversion tables, including the IFT 4000, and the IFT 1000.
Ironman offers this highly effective combined technology for back pain relief, in two of their models:
IFT 1000 (supports up to 275 pounds).
And they don't even cost more than the average non-heated inversion table!
But now you want to know:
Is the Ironman inversion table with heat – more than just a good idea?
Do the infrared heating elements work?
Are they more than a little bonus?
Is it sturdy? Does it feel safe?
How much weight does it support? What height?
Is it easy to use and assemble? Is it comfortable?
Is it worth its price?
The answers to these questions (and more) are here.
(This post contains affiliate links. Click here to read my affiliate policy)
Ironman Infrared Inversion Tables – 2021 Review
Of all the inversion tables in the market, the Ironman IFT 1000 (49 x 25 x 62 inches; 50 pounds) and the Ironman IFT 4000 (51 x 29 x 9 inches; 75 pounds) appear to be the only two infrared heated inversion tables in the market. 
Why Are Infrared Heated Inversion Tables Better?
Infrared therapy is a proven drug-free way to relieve pain, boost circulation, reduce stress, relax your muscles, and speed the healing of injuries.
These attractively designed inversion tables invert up to 180 degrees (though it's not necessary at all) and include infrared heat elements that heat up to a maximum of 140 degrees.
Ironman IFT 4000 Inversion Table Review
Here's what you get with the Ironman 4000 Inversion Table and its pros and cons:
1. Infrared Therapy (Proven to Relieve Pain)
The infrared backrest is made with ultra-thin built-in carbon fiber heating elements inside a 1″ thick backrest, which provides a natural and gentle heat to soothe your back and provide temporary relief from muscle pains while expediting the healing of your back injuries.
The backrest will heat up to a maximum of 140 degrees, but you probably won't need to get it that hot.
(Unlike "regular" electric heat, infrared heat can not burn your skin!)
Remember, you'll have to give it a few minutes to heat up before you use it. It can take about 15 minutes for the temperature to reach a maximum of 140 degrees.
The heat can be set through the remote control and the easy-to-read LED display.
2. Inversion Up to 180 Degrees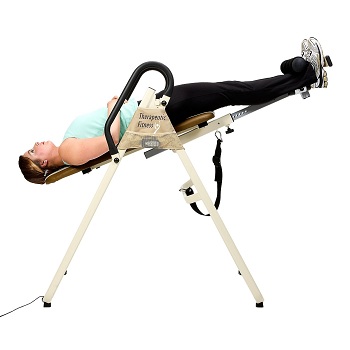 The inversion table will invert up to a full 180 degrees while the ergonomically molded ankle cushions will hold your ankles securely and comfortably in place.
Inverting

supports back health by optimizing

back traction

, thereby relieving the pressure on your vertebrae discs and ligaments.
Your muscles can finally relax while healing components get a chance to return to your discs and speed up the healing of any back injury.
Inverting has many more benefits, such as increasing body flexibility, reducing the effects of aging due to gravity, and even skin rejuvenation (See the complete list of

inversion therapy benefits

).
3. Weight/Height Support (Up to 300 lbs)
Weight – according to Ironman, the IFT 1000 will support up to 275 lbs.
If you are looking for a unit that's specifically built to support up to 350 pounds, I would recommend purchasing the much sturdier Ironman IFT 4000.
Height – the table accommodates users who stand between 4 feet 9 inches and 6 feet 6 inches.
4. Remote Control & Timer 
The Ironman IFT 1000 comes with a LED controller (plus batteries), which shows the heat temperatures and timer.
There is a mesh "pocket" sewn into the cloth designed to store the remote control.
5. Folds for Storage
The Ironman inversion table folds for storage and has a height adjustment from 4'9″ to 6'6.
This infrared therapy inversion table folds up quickly and easily by simply pushing the A-frame together.
Then, the unit can be propped against a wall (or put in a large closet). It certainly won't slide under most beds.
6. Safety and Sturdiness
As for basic safety, the Ironman 1000 has been tested by ETL for all safety requirements.
Otherwise, this table feels very sturdy.
Extra-long safety handles for easy inverting are foam covered (and are always in your reach!)  and the table comes with rubber non-skid floor stabilizers that keep the table stable while you invert.
The table also has a sturdy nylon strap with steel hooks on each end to set your maximum inversion but I recommend using it all the time to assist you.
The tops of the stand are covered with cloth that keeps the nuts and bolts away from your hands.
7. Comfort and Ease of Use
To use the Ironman 1000 to its fullest, you simply rest your body against the foam backrest (after pre-heating it for 10-15 minutes), slip your feet in the ergonomically molded ankle cushions and reach your arms over your head.
As you lift your arms, your body gradually inverts up to a full 180 degrees (not recommended for first-timers!).
Once you're inverted, you can easily change the temperature through the remote (which has a LED display).
All in all, the Ironman is quite easy to use and comfortable.
The backrest has a nice double-stitched body-like shape that looks great, but some people may find it a bit too narrow, as there is no place to rest your arms while inverting.
The Ankle Locking System
The system consists of 2 heel-holding cups with rubber padding and adjustable instep holders with foam rollers, and an adjustable footrest.
They are tight but don't cut any blood flow off.
The footrest is held in its place by 2 bolts to prevent wobbling. The instep holder is spring-loaded and will snap to your ankles once you pull the T-pin.
The system is not enough to keep you completely in place and you can expect to slip a little while inverting (an inch or two).
8. Assembly
The Ironman infrared inversion table doesn't come assembled, but for most people (including my sister's husband) it will take 45 minutes from box to completion.
We suggest taking out all your components ahead of time: know which bolts are big and which are small before you ever start.
Also,  grab yourself a socket wrench. It's so much easier to put it together if you have one.
9. Dimensions When It's SET UP
The shipping box (from Amazon) is 53″ long, 28″ wide, and 5.5″ high.
The setup table weighs about 50 lbs. and is 25″ wide. The length is 49″ and height is 62″(May vary depending on height adjustment setting).
When fully inverted the table can be up to 75″ high.
10. Warranty
Ironman 1000 comes with a 1-year limited warranty.
✅

Ironman IFT 4000 Best Price
I see great deals for the Ironman IFT 4000 on Amazon all the time. Finding it for under $200 would be a great deal.
This price, considering the high quality of the table and the amazing infrared heat bonus, is unprecedented in the inversion table market.
Summary: Pros & Cons
Pros
1. Feels sturdy, durable, and safe. Extra-long handrails for safety reasons.
2. Easy to use, comfortable, and relatively easy to assemble.
3. The ankle locking system is strong and comfortable.
4. Infrared heat!
5. Fair price
Cons
1. Could be easier to assemble
2. It can't be stored under the bed.
3. Does not support more than 300 lbs
4. Relatives come over frequently asking to use it. 😉
Ironman Inversion Table vs. Teeter
The biggest Ironman competitors in 2021 are still the top-rated Teeter Inversion tables. We've reviewed and compared the 3 best-selling models in our Teeter Reviews post. Make sure to check it out!
You should know that The Ironman inversion table takes about 25 minutes to assemble, while The Teeter takes about 10 minutes. Plus, Teeter is UL-certified for safety and performance and is registered with the FDA as a 510(k) medical device, designed to provide traction to the spine while stretching the para-spinal muscles.
See a full comparison between Ironman inversion tables and Teeter inversion tables as well.
Overall, we give the Ironman IFT  inversion table a 4.5 rating and find it to be one of the best investments you can make for your back and overall health.
I feel like I am getting a phenomenal treatment in the 15-20 minutes I spend on the Ironman table and I especially enjoy the relaxing infrared heat.
Have you ever tried combining inversion with infrared heating? what's your experience with gravity tables?
Share your thoughts or questions in the comments below.
To your health and happiness,
The Back Pain Relief Products Team